Research Group [former Laboratory] of Zoogeography
---
Subject areas:
Morphology, Taxonomy, Biology, Ecology, Zoogeography and Paleontology of some water-living Invertebrates (Protista, Mollusca, Arthropoda).
Brief History:
In 1988 on initiative of Dr. Sci. Vitaliy V. Polistchuk (1934–1999) Laboratory of Biogeography was established. Research team of the Laboratory investigated large-scale historical Biogeography and Ecology of many groups of Plants and Animals inhabiting different types of water-bodies within former USSR, mainly Ukraine and some adjacent countries.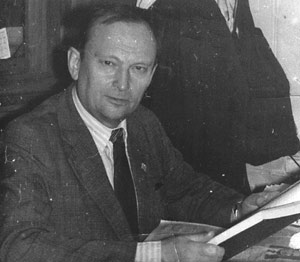 V. V. Polistchuk, 1995 year.
In 2008 the Laboratory of Biogeography was transformed to the Laboratory of Zoogeography. The goals and study area were also substantially corrected and specialized and now the Laboratory conducts detailed investigation of several key taxa of water-living Invertebrates of Ponto-Caspian Basin, e.g. the Black Sea, the Sea of Azov and their drainage systems.
Later, in 2015 the rank of Laboratory reduced to the Research Group of Zoogeography and now its staff comprises of 4 persons including three researchers with Candidates of Sciences (PhD) degree and one qualified engineer.
---
Research Group of Zoogeography, May 2015.
Left to right: Marina Kirichenko, Olga Anistratenko, Roman Babko, Yaroslava Danylkiv.
The scientists of the Group are highly qualified specialists in Systematics, Morphology, Ecology and Zoogeography of Protista, Mollusca and some Arthropoda. The methods of traditional morphology in combination with modern approaches (DNA study, scanning electron microscopy) are widely used in the ongoing research.
Several monographs and numerous of scientific papers were published in periodicals in Ukraine and abroad by workers of the Group.
---
Staff:
Roman V. BABKO, Senior Research Scientist, PhD
Olga Yu. ANISTRATENKO, Senior Research Scientist, PhD
Marina B. KIRICHENKO, Research Scientist, PhD
Yaroslava M. DANYLKIV, Qualified Engineer